Breaking News.
Here you will find all JOY updates as they happen keeping you up to date with all we do along our way through "Jordies Journey".
Welcome to the Jordie On You breaking news page where we will keep you full posted throughout the journey of joy. As things progress with the charity we will post all information here so that you know at all times the behind the scenes actions within JOY.
Its great to get excited about the progression of Jordie On You and we want to share every moment with the people that make it all happen, we want you to share the excitement of our progression and very much want each and every donator / sponsor / fundraiser and event organiser to share our journey - "Jordie's Journey".
On October 23rd 2019 Jordie On You became an Officially Registered Charity: 1185945
JOY are proud to announce that we RECEIVED registered charity status !
The purposes for our organisation are as follows:
'For the public benefit to relieve the need of children in England who are suffering from bereavement of a family member of suffers from mental health issues themselves or have a sibling who suffers from mental health issues in particular but not extensively by referring them to support through the provision of a holiday home/respite break'
Enzo is set to join JOY in February 2021
It is with great pleasure that we get to announce our brand new team member enzo !
Enzo will be joining the joy team in February 2021 and will start histraining as a therapy dog.
Enzo will be on hand at events to offer a hug to all children, just as soon as he has completed all of his training and gained his certification, until then we will ensure has all the love he needs so that he knows how to share it the best with those that need it the most.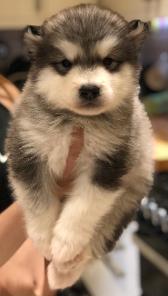 Cambridge landlord donates garage to JOY
Cambridge property investments landlord donates much needed space to joy !
With the charity events taking off a storm and raffle prizes coming in fast and furious including companies that are wanting to support JOY by sending us cases of items to sell we found ourselves in extreme need of storage space. A fantastic local Cambridge landlord has got in touch and offered the entire use of his garage at one of his properties which is amazing as we can now up our game yet another notch and take a large step towards our goal of purchasing and sustaining a holiday home for children suffering bereavement and living with mental health conditions. What a fantastic gesture and another sign of amazing local community spirit.

Hays Travel cambridge partner J.o.y in 2020 and see a bright future together
Hot of the press today:
After speaking today with Chris the manager of Hays Travel "Cambridge Branch" we can confirm that we will be working together in 2020 on the Everest project and in a continued way throughout time, being both local to cambridge we have together decided that a great local partnership will be formed.
Fantastic stuff from Hays Travel - Thank you
Gary's Custom Airbrush Work creates display piece for JOY.
JOY are amazed to announce that a charity display piece has been created for us!
J.O.Y are pleased to announce that Gary from Gary's custom airbrush work has contacted us and has offered to create a J.O.Y motorcycle helmet that we can use as a display piece when we are doing charity events, this will certainly catch some attention - And get people talking and to be honest talking is exactly what we want people to do! Don't suffer alone in silence - Speak out.
You Can find Gary's custom airbrush Work by clicking: This Link
Harston F.C don the JOY charity logo.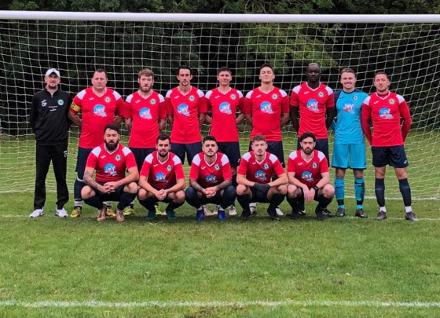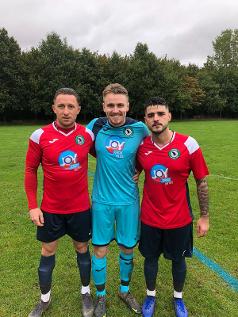 JOY are proud to see yet another local football club support our charity!
J.O.Y are pleased to announce that Harston F.C become the 1st Saturday Mens football club to wear the charity logo on their chests along with displaying the charity web address across their shoulders. Josh Maltby along with fellow strike partner Tommy Wright and Club Captain Sean Audley and the club chair man clubbed together along side a local company to purchase the kit so that all away games would promote the charity. Not only does the kit look great but both strikers managed to find the back of the net on the kits debut bring home Harston F.C a well deserved 4-1 victory and seeing them clear at the top of their league.
Pictured right is good friends of Jordies: Tommy, Joe and far right Jordies brother Josh. Captain Sean quoted on Twitter "Good to help out and wear with pride".
Thank you HARSTON F.C.
Cambridge Property Investments of Cambridge Donate office space to JOY
CPI Donate office space to Joy!
JOY are pleased to announce that Cambridge Property Investments Ltd a Cambridge based Lettings Agency have donated a desk and space to JOY within one of their offices here in Cambridge.
Office space now provides JOY with a registered address and the space to enable us to be more efficient, raise more funds and reach our goal a lot faster meaning we can help kids smile again a lot quicker!
Thank you Cambridge Property Investments Ltd.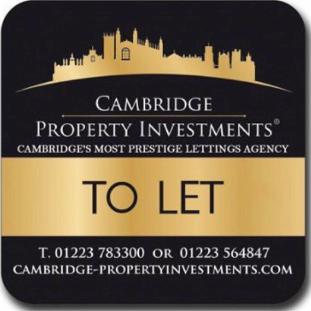 Panther Taxi's of Cambridge Donate to help JOY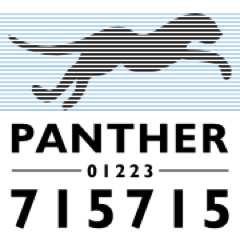 Panther to the rescue!
When Paul Clare of Panther heard that JOY were looking for a card machine to enable us to take card payments he jumped on the chance! Understanding that as a charity JOY have pledged that every penny will stay within the charity Paul immediately offered to donate a machine. However they didn't stop there, upon collection of the card reader JOY were also gifted a cheque from Panther!
A long relationship is now to be built between us supporting local community. Thank you Paul and Thank you Panther Taxis.
Kayley & Joe Donate a Football Kit to Wilburton Albion U7's!
A real taste of community spirit!
When Kayley and Joe heard that Wilburton Albion U7's were looking for a new kit and sponsor they jumped at the chance. Sponsoring the kit out of their own money and choosing to have the JOY logo instead of a sponsorship means that they have made kids smile and also are helping to raise awareness of our charity! A really lovely gesture this!!
Thank you Kayley and Joe and best of luck Wilburton Albion Under 7's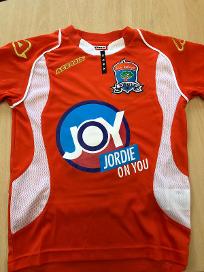 NCS join forces with JOY thanks to Chelsey & Crew.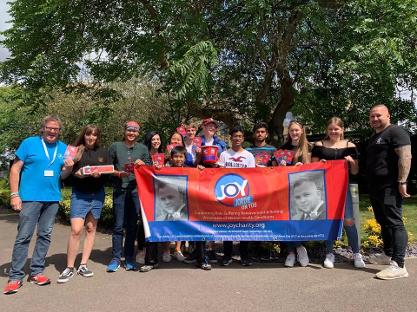 What Charity Shall we represent!
When Chelsey Carter was asked what charity she wanted to represent she swiftly proposed JOY, all agreed and the NCS young adults set about their business.
This group of young adults took to the street to raise awareness of JOY, Mental Health and Kids Suffering Bereavement and not only did they raise awareness they raised over £200 for the charity by doing a cake bake sale!
We hope to work with NCS young adults again in the future as they really are great!!
Mason Carter age 12 decided he wanted to do something for Jordie On You!
Mason decided he would grow some vegetables in his green house but soon found he had way too many for his own families personal use so Mason decided to set up a stall outside of his home to raise money for JOY, most kids would have wanted to save for a playstation etc but not Mason, What a kid!!
A stall became available on the Dudley Park Family day and Mason jumped at the opportunity and not only raised money JOY but also got meet the Mayor of Cambridge.
A great day was had by all and Mason raised some good money for the charity and was soon joined by others wanting to make a difference, Its lovely and humbling to see Kids making a difference - After all the future belongs to them.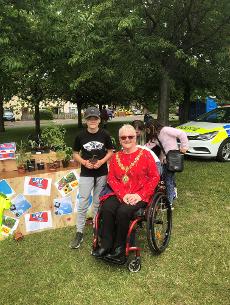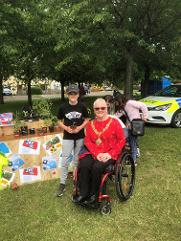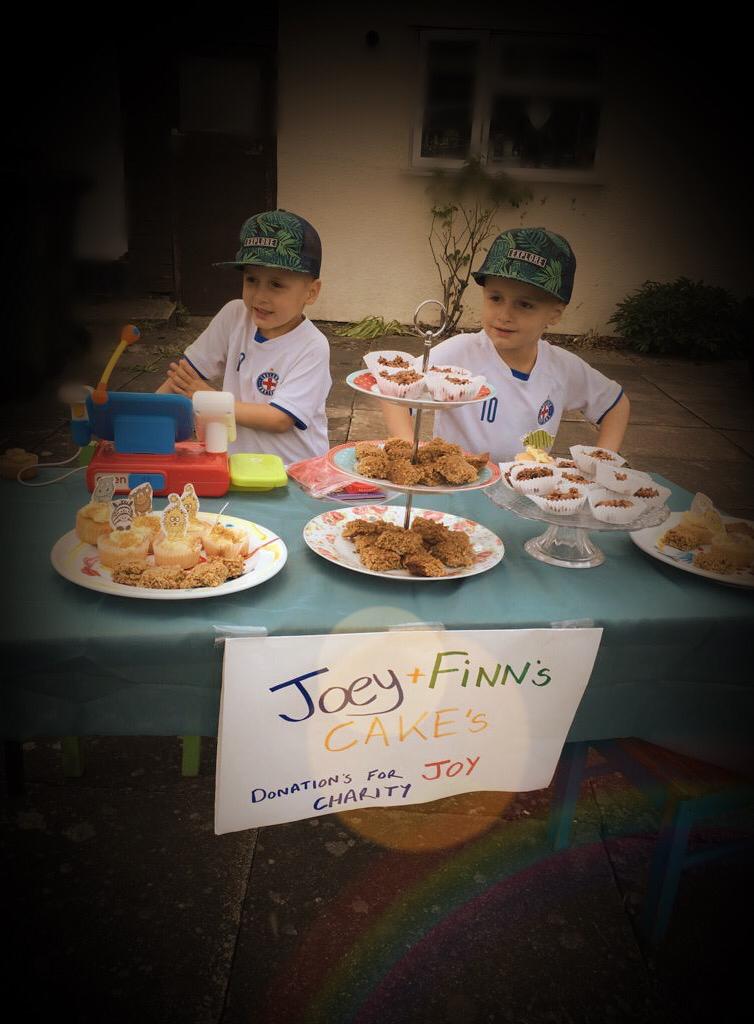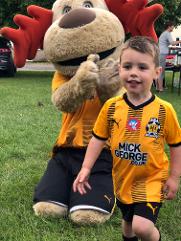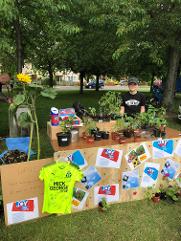 Charity wristbands are Available NOW!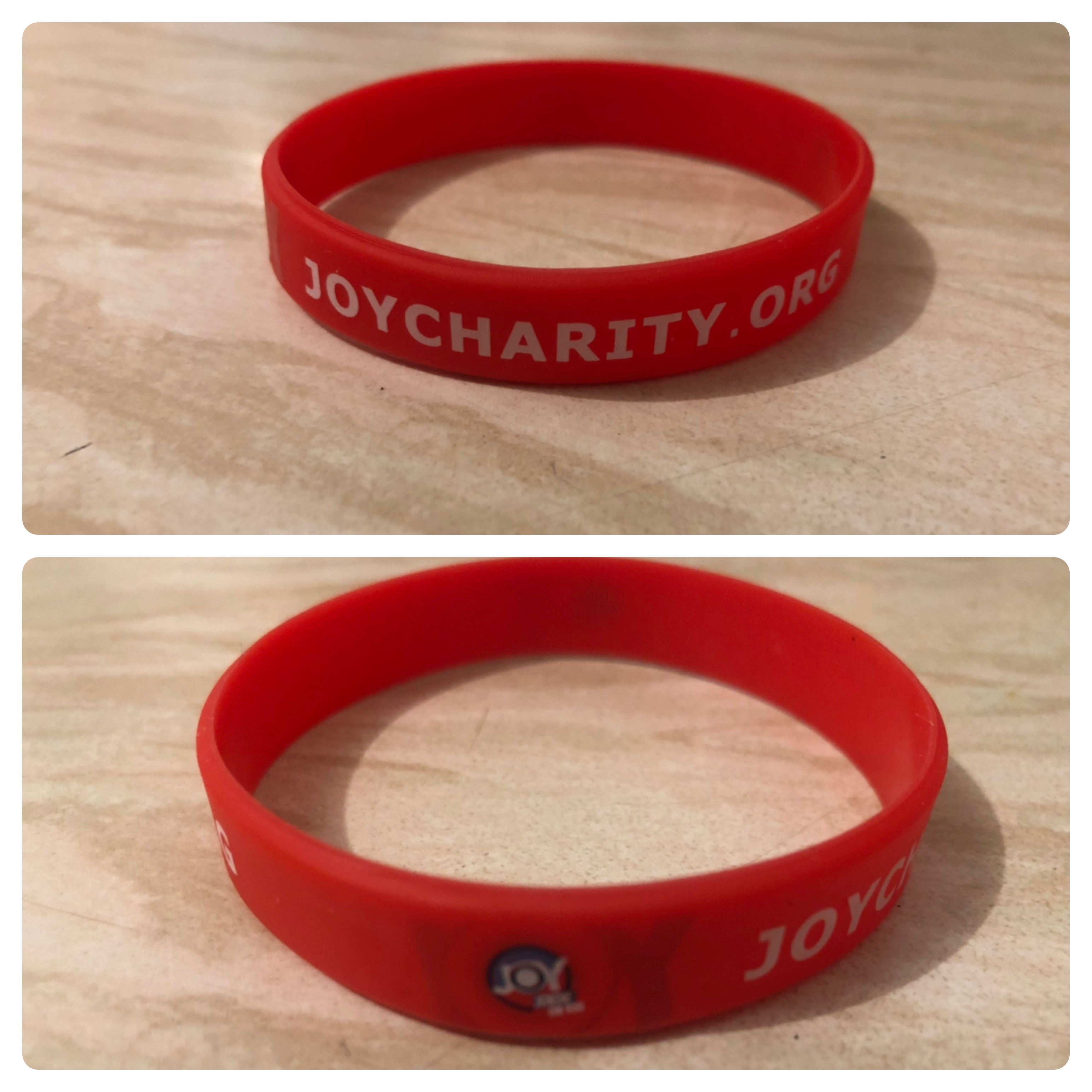 JOY charity wristbands are Now available: and are just £1.50
And they look great too! A big thank you goes out to Complete Electrical Solutions (East Anglia Ltd and Madvie Heating and Plumbing Cambridge for donating these bands to the charity, meaning we can have these for free. All JOY products are donated so that every single penny raised stays within the charity .
Charity donation pots arrive!
JOY charity donation pots arrive:
And wow they look great! A big thank you goes out to Jordie's parents, Uncle Dave & Aunty Tracy for donating these to the charity, meaning we can have these for free as all JOY products are donated. Every single penny raised stays within the charity - YES thats every penny!! so truly every penny donated does help. Thank you.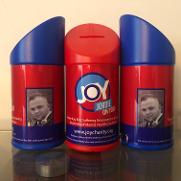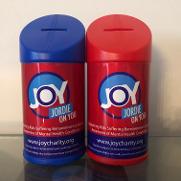 Jordie's Charity song Valentine sells over 1200 times!
Thank you so much for your continued support!
If you wish to purchase Valentine please simply click on the picture and follow the link to iTunes.
A Special Thank you: To

Moo Creative

: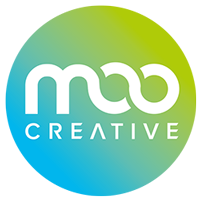 All of us at JOY would like to say a really big thank you to Steve at Moo Creative for creating our logo's for us.
When we 1st started JOY we reached out for a graphic designer to create something special for our logo and literally within minutes Steve had replied, with background information he managed to create a logo that kept Jordie's name alive and also gave us something that could relate to children, something colourful yet meaningful and with the JOY logo in place everything else soonfollowed, Moo Creative never took a single penny from us and that sparked the every penny stays within the charity campaign because from Steve we quickly learned that there are great people in the world that are willing to help these Kids Suffering Bereavement and are willing to help us share Mental Health Awareness. - Thank you Steve & Moo Creative.
Event Sponsorships Available Now!
If you would like to sponsor one of our events and take advantage of a full years advertising here on our website as well as having the satisfaction of doing something amazing for kids that really need it then please do get in touch, we really need your support.