JOY Charity Blog!
Here you will find our blog on all things related to Child Bereavement, Mental health in Children andany up and coming press releases relating to our charity Jordie On You (JOY) , where you will be the very first to see all up and coming news!

21 January 2020
Travel agents help former soldiers as they plan trip to Everest to raise funds for children's charity
HAYS Travel in Cambridge is supporting a group of former soldiers as they embark on a trip to climb Mount Everest… all after a chance encounter with the man fitting the phone lines in the new store!
The city centre travel agency has helped organise a trip to the Himalayas so that the group of three former soldiers can climb Everest and raise money for children's charity, Jordie on You (Joy). Joy provides support to children and young people who are suffering from bereavement.
Chris Neal, manager of the Hays Travel shop in Cambridge, said: "I met Alex Littlechild when he came to put our phone lines in after the acquisition of the former Thomas Cook shop by Hays Travel. We started talking about all things travel, and this was when Alex mentioned a group of them were doing the Everest climb for the Joy charity.
"I instantly wanted myself and my team to be involved, and in fact soon found out that the partner of one of my colleagues had already helped raise money for the same charity. Hearing about the work of the charity touched all of us here at the branch and we really felt that we wanted to help in any way we could.
"Alex and I exchanged details and thankfully the group decided to come back to us to book their trip. We really want to help to get people's attention for this great cause, and hopefully will be helping them out in the future too."
Matthew Maltby, company director of Cambridge Property Investments Ltd and creator of Jordie on You said: "This event is particularly relevant as all ex-soldiers doing it are fathers and as you will well know mental health in ex-soldiers is a big issue, so by these guys doing this to help kids in a situation they could well be in themselves means so much. These guys are really inspiring and we hope they will inspire others to help us to help others too."
"To Hays Travel I would like to say a huge thank you, especially Chris in the Cambridge branch, for taking the bull by the horns with this Everest trip! To be part of your local community partnership is fantastic. We really do appreciate everything you are doing for us as a charity, but ultimately your huge part in helping kids smile again."
The group set off on their trek to climb Everest in October. Anyone interested in supporting their cause can visit: https://www.joycharity.org/
-Ends -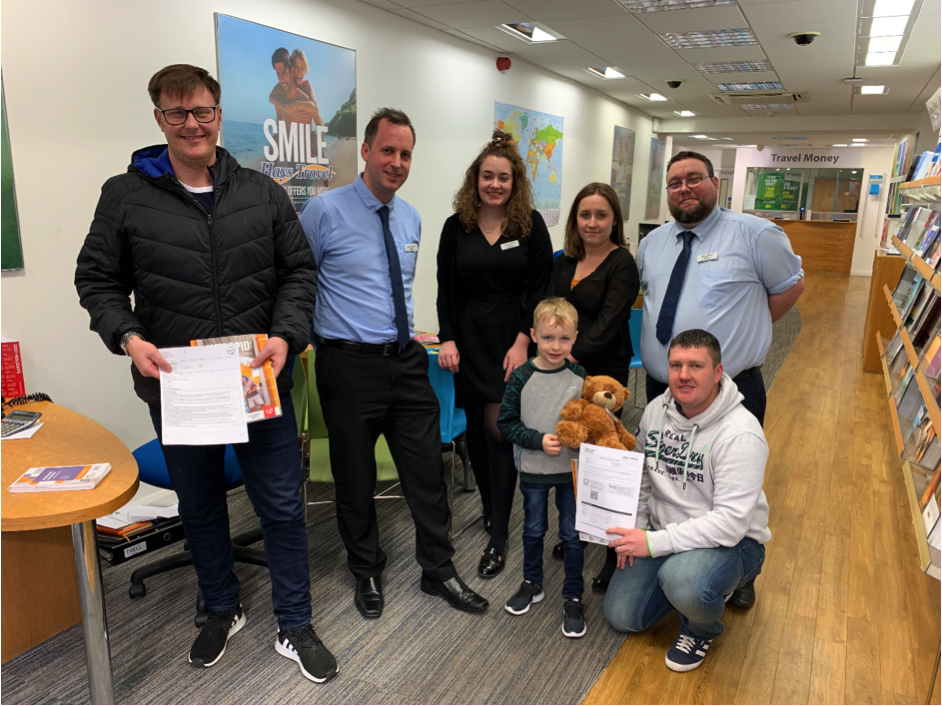 Image: from left to right, Lee Nocton, Everest Base Camp; Chris Neal, Hays Travel Cambridge manager; Jaime Broomfield, Hays Travel; Jack Nocton, son of Lee Nocton; Jessica Steele, Hays Travel; Aaron Wilson, Hays Travel; and Alex Littlechild, Everest Base Camp